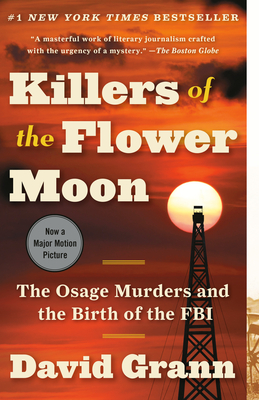 Killers of the Flower Moon: The Osage Murders and the Birth of the FBI
Publication Date:
April 3rd, 2018
Currently Available Online
One of the most horrific chapters in American history is brought back to the national consciousness with alarming detail in Killers of the Flower Moon. After the Osage Indian Nation strikes oil, its members become rich beyond their wildest dreams, only to encounter a vast and murderous conspiracy that will leave more than 60 members of the nation dead. David Grann reconstructs those murders and the subsequent investigations with astonishing care and reveals the depths of a conspiracy that stretched from Oklahoma to Washington, D.C. This story will certainly be one of the most important books of 2017.
May 2017 Indie Next List
Killers of the Flower Moon by David Grann (The Lost City of Z) is a page-turner that reveals a part of American history long forgotten. In the 1920s, the Osage Indians of Oklahoma were some of the wealthiest people in the world. They were also being poisoned and murdered. Grann covers all the sordid details, brings the principal characters to life, and just when you think it's all figured out, reveals new information. It's a compelling story of greed, betrayal, J. Edgar Hoover, the Wild West, and murder, still resonating with the Osage today.
Summer 2018 Reading Group Indie Next List
Description
#1 NEW YORK TIMES BESTSELLER • A twisting, haunting true-life murder mystery about one of the most monstrous crimes in American history, from the author of The Wager and The Lost City of Z, "one of the preeminent adventure and true-crime writers working today."—New York Magazine • NATIONAL BOOK AWARD FINALIST • SOON TO BE A MARTIN SCORSESE PICTURE
"A shocking whodunit…What more could fans of true-crime thrillers ask?"—USA Today
"A masterful work of literary journalism crafted with the urgency of a mystery." —The Boston Globe
In the 1920s, the richest people per capita in the world were members of the Osage Nation in Oklahoma. After oil was discovered beneath their land, the Osage rode in chauffeured automobiles, built mansions, and sent their children to study in Europe.
Then, one by one, the Osage began to be killed off. The family of an Osage woman, Mollie Burkhart, became a prime target. One of her relatives was shot. Another was poisoned. And it was just the beginning, as more and more Osage were dying under mysterious circumstances, and many of those who dared to investigate the killings were themselves murdered.
As the death toll rose, the newly created FBI took up the case, and the young director, J. Edgar Hoover, turned to a former Texas Ranger named Tom White to try to unravel the mystery. White put together an undercover team, including a Native American agent who infiltrated the region, and together with the Osage began to expose one of the most chilling conspiracies in American history.
Look for David Grann's latest bestselling book, The Wager!
Praise for Killers of the Flower Moon: The Osage Murders and the Birth of the FBI
NEW YORK TIMES BEST SELLER • A NEW YORK TIMES NOTABLE BOOK 
A BEST BOOK OF THE YEAR: Wall Street Journal, The Boston Globe, San Francisco Chronicle, GQ, Time, Newsday, Entertainment Weekly, Time Magazine, NPR, Vogue, Smithsonian, Cosmopolitan, Seattle Times, Bloomberg, Lit Hub, and Slate
"Disturbing and riveting. . . . Grann has proved himself a master of spinning delicious, many-layered mysteries that also happen to be true. . . . It will sear your soul."
—Dave Eggers, New York Times Book Review

"A marvel of detective-like research and narrative verve."
—Financial Times
"A shocking whodunit. . . . What more could fans of true-crime thrillers ask?"
—USA Today
"A master of the detective form. . . . Killers is something rather deep and not easily forgotten."
—Wall St. Journal
"The best book of the year so far."
—Entertainment Weekly
"David Grann's Killers of the Flower Moon is unsurprisingly extraordinary."
—Time
"A masterful work of literary journalism crafted with the urgency of a mystery. . . . Contained within Grann's mesmerizing storytelling lies something more than a brisk, satisfying read. Killers of the Flower Moon offers up the Osage killings as emblematic of America's relationship with its indigenous peoples and the 'culture of killing' that has forever marred that tie." 
—The Boston Globe
"[C]lose to impeccable. It's confident, fluid in its dynamics, light on its feet. . . . The crime story it tells is appalling, and stocked with authentic heroes and villains. It will make you cringe at man's inhumanity to man."
—The New York Times