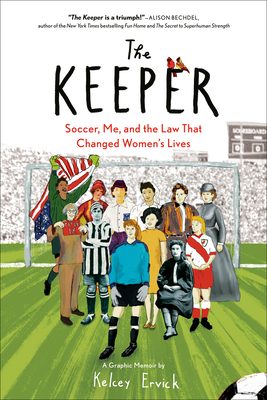 The Keeper: Soccer, Me, and the Law That Changed Women's Lives
Publication Date:
October 4th, 2022
Currently Available Online
Description
From the New York Times Book Review,
"[R]eaders will certainly want to linger on the beautiful depictions of birds, people and scenes from her life. She weaves in historical context in graceful and necessary ways."
A beautifully illustrated coming-of-age graphic memoir chronicling how sports shaped one young girl's life and changed women's history forever.
Growing up playing on a top national soccer team in the 1980s, Kelcey Ervick and her teammates didn't understand the change they represented. Title IX was enacted in 1972 with little fanfare, but to seismic effect; between then and now, girls' participation in organized sports has exploded more than 1,000 percent. Braiding together personal narrative, pop culture, literature, and history, Ervick tells the story of how her adolescence was shaped by this boom. Ervick also explores her role as a goalkeeper—a position marked by outsider status and observation—and reveals it has drawn some of the most famed writers of our time. With wit and poignant storytelling, The Keeper brings to life forgotten figures who understood the importance of athletics to help women step into their confidence and power—and push for equality. Full of 1980s nostalgia and heart, The Keeper is a celebration of how far we have come and a reminder of how far we have to go.
Praise for The Keeper: Soccer, Me, and the Law That Changed Women's Lives
"[R]eaders will certainly want to linger on the beautiful depictions of birds, people and scenes from her life. She weaves in historical context in graceful and necessary ways."
- New York Time's Book Review
"[A] work of disarming emotional power."
- Publisher's Weekly
"This thought-provoking title will draw readers' attention to the fiftieth anniversary of Title IX while also satisfying fans of graphic memoirs, sports, and feminist history."
- Booklist
"The Keeper is a triumph! Kelcey Ervick's rollicking visual storytelling makes this information-packed lesson in women's sports history both hilarious and surprisingly moving. Do not be deceived by her loose, exuberant drawings--the level of writerly control at play in this beautiful book is prodigious."
- Alison Bechdel, author of the New York Times bestselling Fun Home and The Secret to Superhuman Strength

"I didn't know I'd be embarking on an adventure into history, pop culture, tender storytelling, and sharp wit when I started The Keeper. I know nothing about sports, but I was hanging on every word (and gorgeous drawings). Kelcey Ervick's story is fascinating and relatable for any of us who have ever journeyed into identity within the limiting structures of society, and she gives us a delightful roadmap for finding our own way. The Keeper is so entertaining and so moving that I wasn't sure if I should tear up or giggle on any given page, and so informative that I was left in total awe by the end."
- Mari Andrew, New York Times bestselling author of Am I There Yet? and My Inner Sky
 
"If Alison Bechdel were a goalkeeper, this is the memoir she would have written—dueling bitter and sweet, The Keeper is a feminist anthem and a writer's coming-of-age in a graphic disguise. It's a book for the athlete in your house—and maybe for the athlete you were told you couldn't really be."
– KJ Dell'Antonia, New York Times bestselling author of The Chicken Sisters
"I am so glad to have read this marvelous book. I loved drinking in the paintings, and am so in awe of Ervick's artistry, and her amazing story as an athlete and writer, but also The Keeper helped me comprehend more deeply the women who organized and fought (and played soccer and took a knee) for rights and justice in our time. This book is profoundly great and necessary right now."
- Tom Hart, #1 New York Times bestselling author and illustrator of Rosalie Lightning: A Graphic Memoir
"Kelcey Ervick's The Keeper offers a fascinating look at important figures through history who have pushed for equal standing for women in sports—a fight that continues today. But this book is also about sisterhood and the sacred bonds between teammates. It's about the love of the game and the deep sense of joy and power it provides. It's about the collective strength of women and how we have built on each other's achievements, one generation passing the baton to the next, to ensure a future without limits for the girls who will follow. The Keeper is equal parts inspiration and motivation." 
- Briana Scurry, World Cup Champion U.S. Goalkeeper, two-time Olympic gold medalist, and author of My Greatest Save
"The Keeper is a winner. You don't have to be an athlete to appreciate this inspiring graphic memoir. Not only does it offer page after page of beautiful artwork, but The Keeper is a young woman's coming-of-age story, it's a history lesson, and a call to action. Kelcey Ervick accomplishes a magical feat found in the best of memoirs—she's depicted a life's journey that's completely original, while also making it feel universal. To say I loved this book is an understatement."
-  Elise Hooper, author of Fast Girls
"The Keeper is a beautifully illustrated story about growing up in America. Part memoir, part essay, part archive, and part documentary, Ervick masterfully blends a moving coming of age story with an illuminating history of Title IX and women's access to sports. By examining old diaries, photographs, videos, and other ephemera, Ervick generously shares her process of realizing the many aspects of her identity: athlete and artist, mother and writer, wife and individual. The Keeper is a timely work, full of heart."
- Margaret Kimball, author of the graphic memoir And Now I Spill the Family Secrets
"Title IX changed everything, my mother says. She grew up in the 50s, and resented that her two strongest points, academics and athletics, were pluses for boys and minuses for girls. Thankfully, things were different for author Kelcey Ervick, who shows us, in this beautifully written and drawn memoir, the huge leaps gained since then and how far we have to go, weaving together her personal history as a girls' soccer champion and the important, intertwined histories of women's athletics and women's civil rights."
- Ellen Forney, author of the New York Times bestselling Marbles