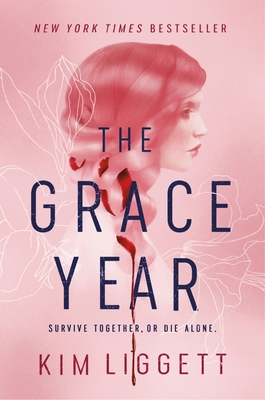 The Grace Year: A Novel
Publication Date:
October 27th, 2020
Publisher:
Wednesday Books
Currently Available Online
Liggett combines a dystopian society with a horrific survivor story and a dark fairy tale in The Grace Year. Young girls are believed to be magic, so they are forced into exile for their 16th year in order to release their powers. After their year away, they are expected to come back ready for a docile home life. But not all of them come home alive, and many come home changed. Liggett's story is haunting and lyrical, an intriguing page-turner filled with love, brutality, violence, and hope.
Fall 2019 Kids Indie Next List
Description
The instant New York Times bestseller, Kim Liggett's The Grace Year is a speculative YA thriller in the vein of The Hunger Games and The Power, now in trade paperback.
No one speaks of the grace year. It's forbidden.
In Garner County, girls are banished for their sixteenth year to release their magic into the wild so they can return purified and ready for marriage.
But not all of them will make it home alive.
Tierney James dreams of a better life—but as her own grace year draws near, she quickly realizes that there's more to fear about the grace year than the brutal elements and the poachers in the woods.
Their greatest threat may very well be each other.
With sharp prose and gritty realism, Liggett's The Grace Year examines the complex and sometimes twisted relationships between girls, the women they eventually become, and the difficult decisions they make in-between.
Praise for The Grace Year: A Novel
"Liggett's immersive storytelling effortlessly weaves horror elements with a harrowing and surprising survival story. Profound moments lie in small details, and readers' hearts will race and break right along with the brave, capable Tierney's. The biggest changes often begin with the smallest rebellions, and the emotional conclusion will resonate. Chilling, poignant, haunting, and unfortunately, all too timely." -- Kirkus (Starred Review)
"Beautiful, devastating, and deeply moving, THE GRACE YEAR is a testament to the power of finding your voice and speaking your truth. This story of hope and resistance reminds us of what authoritarians and strongmen throughout history have always feared--that a single light in the darkness calls all other lights to shine, that a lone whisper can give rise to a thundering chorus. This haunting, lyrical book is required reading, full stop." -- Samira Ahmed, New York TimesBestselling author of Internment and Love, Hate & Other Filters
"A visceral, darkly haunting fever dream of a novel and an absolute page-turner. Liggett's deeply suspenseful book brilliantly explores the high cost of a misogynistic world that denies women power and does it with a heart-in-your-throat, action-driven story that's equal parts horror-laden fairy tale, survival story, romance, and resistance manifesto. I couldn't stop reading." -- Libba Bray, New York Times bestselling author of The Diviners and A Great and Terrible Beauty
"A dark fairy tale of a book that speaks to the time that we live in." -- Kelly Link, author of Get In Trouble
"The Grace Year seethes with love and brutality, violence and hope. It is a remarkable and timely story of the bonds between women, the cost of breaking those bonds, and the courage it takes to defy a patriarchy intent on crushing feminine strength. Everyone should read this book." --Sabaa Tahir, #1 New York Times bestselling author of An Ember in the Ashes
"The Grace Year is a book for every woman who has ever screamed at the top of her lungs and still felt like no one heard her. A book for every person who has ever been made to feel small or less than. A book for all of us who have been told to sit down and be silent, to grin and bear. Tierney's captivating story reminded me that sometimes existing is itself an act of bravery--and this book's existence is an act of courage that I'm very grateful for. Brutally smart, devastatingly lyrical, and so capital i-Important, I want everyone to read this book!" -- Jasmine Warga, internationally bestselling author of My Heart and Other Black Holes and Other Words for Home
"It is a top ten book of the year for sure and maybe the best YA novel this year. If you like The Handmaid's Tale and Vox, this book is for you." -- Red Carpet Crash