Discounted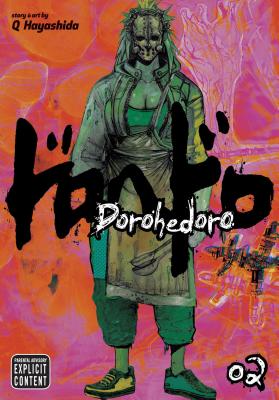 Dorohedoro, Vol. 2
Previous price:

$16.99
Current price:

$12.99
Publication Date:
August 17th, 2010
Currently Available Online
Description
A twisted tale of sadistic Sorcerers and the monsters they create.
In a city so dismal it's known only as "the Hole," a clan of Sorcerers has been plucking people off the streets to use as guinea pigs for atrocious "experiments" in the black arts. In a dark alley, Nikaido found Caiman, a man with a reptile head and a bad case of amnesia. To undo the spell, they're hunting and killing the Sorcerers in the Hole, hoping that eventually they'll kill the right one. But when En, the head Sorcerer, gets word of a lizard-man slaughtering his people, he sends a crew of "cleaners" into the Hole, igniting a war between two worlds.
Once a year, hordes of the dead rise and roam the streets of the Hole, hungry for live flesh. And every year, Caiman and Nikaido sign up for the local zombie-killing contest! Whoever sends the most zombies back into the ground will win some fantastic prizes. But the fun ends quickly when En's cleaners finally track down Caiman and Nikaido. Somebody's going to lose their head. Literally.