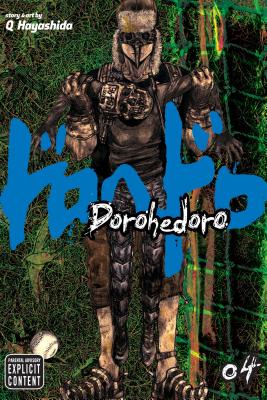 Dorohedoro, Vol. 4
Publication Date:
August 16th, 2011
Currently Available Online
Description
A twisted tale of sadistic Sorcerers and the monsters they create.
In a city so dismal it's known only as "the Hole," a clan of Sorcerers has been plucking people off the streets to use as guinea pigs for atrocious "experiments" in the black arts. In a dark alley, Nikaido found Caiman, a man with a reptile head and a bad case of amnesia. To undo the spell, they're hunting and killing the Sorcerers in the Hole, hoping that eventually they'll kill the right one. But when En, the head Sorcerer, gets word of a lizard-man slaughtering his people, he sends a crew of "cleaners" into the Hole, igniting a war between two worlds.
Caiman and Nikaido return to the Hole, where Doc and Kasukabe manage to cure Nikaido of her deadly fungal affliction. But a prowler outside Central Hospital is watching and waiting for an opportunity to steal her away. Fujita returns to the Hole to finally kill Caiman himself. He gets close when he's recruited for a baseball match between Central Hospital and Hole Peace Hospital, but his plans change when he spots an old friend. Meanwhile, in the Sorcerer's dimension, a little accident transforms Noi into a hideous monster. It's up to Shin to stop her before she kills everyone.