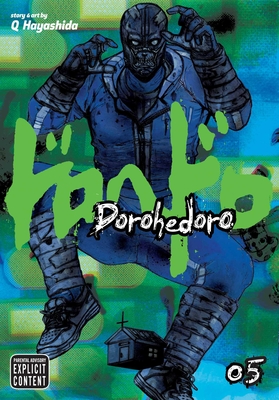 Dorohedoro, Vol. 5
Publication Date:
December 20th, 2011
Currently Available Online
Description
A twisted tale of sadistic Sorcerers and the monsters they create.
In a city so dismal it's known only as "the Hole," a clan of Sorcerers has been plucking people off the streets to use as guinea pigs for atrocious "experiments" in the black arts. In a dark alley, Nikaido found Caiman, a man with a reptile head and a bad case of amnesia. To undo the spell, they're hunting and killing the Sorcerers in the Hole, hoping that eventually they'll kill the right one. But when En, the head Sorcerer, gets word of a lizard-man slaughtering his people, he sends a crew of "cleaners" into the Hole, igniting a war between two worlds.
Everyone is looking for that special someone... Convinced that Risu is the key to his past (and his head), Caiman heads to the Sorcerers' dimension on his own. While he's tracking down Risu, he finds the Sorcerers getting ready for "Blue Night," a festival where Sorcerers find their partners. Meanwhile, Risu is looking for his old partner Aikawa to see what he might know about the people who killed him. Shin and Noi are both being hunted by Sorcerers who've long coveted them as partners. En is relentlessly hunting a Sorcerer who can manipulate time. And Fujita's looking for...well, any partner who will have him.