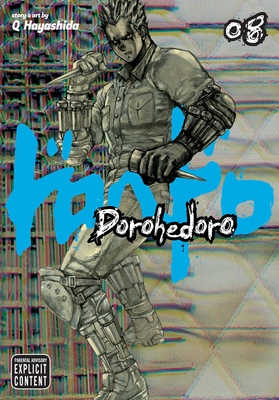 Dorohedoro, Vol. 8
Publication Date:
December 18th, 2012
Currently Available Online
Description
A twisted tale of sadistic Sorcerers and the monsters they create.
In a city so dismal it's known only as "the Hole," a clan of Sorcerers has been plucking people off the streets to use as guinea pigs for atrocious "experiments" in the black arts. In a dark alley, Nikaido found Caiman, a man with a reptile head and a bad case of amnesia. To undo the spell, they're hunting and killing the Sorcerers in the Hole, hoping that eventually they'll kill the right one. But when En, the head Sorcerer, gets word of a lizard-man slaughtering his people, he sends a crew of "cleaners" into the Hole, igniting a war between two worlds.
The Professor's found the home of his estranged wife, but there's no sign of her in the tiny cottage. Hot on the Professor's heels, Shin and Noi find themselves in serious trouble with the home's new occupants: a gang of En's rivals with powerful abilities. Meanwhile, political intrigue boils among the demons in hell, and Caiman and Nikaido try to repair their friendship after a vicious and near-fatal duel. Fujita inches closer to his long-awaited revenge against Caiman, Risu inches closer to the leader of the Cross-Eyes, and Ebisu inches closer to her past in this highly anticipated volume of Dorohedoro!