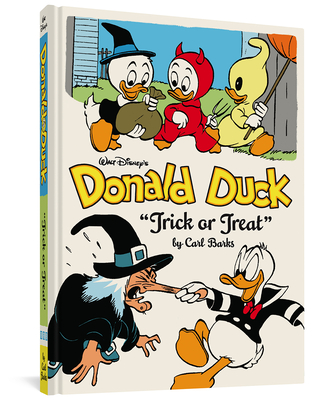 Walt Disney's Donald Duck "Trick or Treat": The Complete Carl Barks Disney Library Vol. 13
Publication Date:
October 26th, 2015
Currently Available Online
In Carl Barks' Duckburg we see all the human frailties: Donald Duck's anger, Scrooge's ambition, the Beagle Boys' greed. Barks was a virtuoso artist and writer who combined breakneck action with detailed and subtle art. You will find a master at his peak in 'Lost in the Andes,' and your inner-child will thank you.
December 2011 Indie Next List
Description
This volume kicks off with "Trick or Treat" — a comic-book version of the classic Disney animated short, with nine pages restored — and includes Barks's favorite, "Omelet," where Donald Duck becomes…a chicken farmer?!
Our lead-off story, "Trick or Treat," is the master cartoonist's adaptation of the Donald Duck cartoon of the same name — with nine pages added back in from the originally truncated version! Then, Donald is convinced that Huey, Dewey, and Louie's toy gun can really put people into a hypnotic spell — so he tries it out on Uncle Scrooge! Hijinks abound as Uncle Scrooge plants pots of gold at the foot of a rainbow to see who will handle the money best — Donald, Gladstone, or the nephews. Also, one of Barks's own personal favorites, "Omelet" — the story of Donald's slapstick misadventures as a chicken farmer. Nineteen stories, plus bonus features, each meticulously restored and newly colored. Insightful story notes by an international panel of Barks experts.
Praise for Walt Disney's Donald Duck "Trick or Treat": The Complete Carl Barks Disney Library Vol. 13
Carl Barks... was probably the best artist and writer working in the
entire field of comics. ... Ingenious, clever, and funny, the Barks Duck
Books... are as readable and immediate to me as an adult as they were
when I first discovered them as a child.
— Jeff Smith (Bone, RASL) - Mental Floss