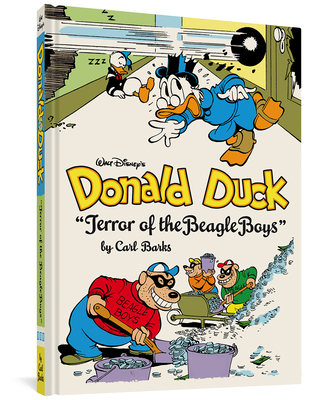 Walt Disney's Donald Duck "Terror of the Beagle Boys": The Complete Carl Barks Disney Library Vol. 10
Publication Date:
May 10th, 2016
Currently Available Online
In Carl Barks' Duckburg we see all the human frailties: Donald Duck's anger, Scrooge's ambition, the Beagle Boys' greed. Barks was a virtuoso artist and writer who combined breakneck action with detailed and subtle art. You will find a master at his peak in 'Lost in the Andes,' and your inner-child will thank you.
December 2011 Indie Next List
Description
There are sea monsters, millionaires, spies, and more in the latest volume of Carl Barks's internationally beloved Donald Duck comics.
It's the greatest get-rich-quick scheme ever! When a twister scoops up Scrooge's cash and rains it back down, Donald becomes an instant millionaire … but so does everyone else! And when a mighty ship vanishes at sea, detective Donald tracks down the culprit — a giant sea monster! Then, on a trip to the Riviera, it's all spies, counterspies, and counter-counter spies when Huey, Dewey, and Louie run afoul of the mysterious Madame Triple-X. And when Donald and the boys wind up in Old California, the rush is on — for the gold in them thar hills!Carl Barks delivers another superb collection of outrageous hijinks, preposterous situations, bamboozlement, befuddlement, and all-around cartooning brilliance. Over 200 pages of stories, each meticulously restored and newly colored, as well as insightful story notes by an international panel of Barks experts.