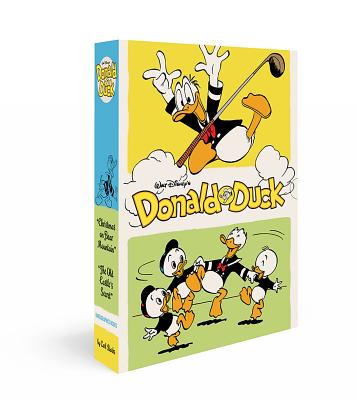 Walt Disney's Donald Duck Gift Box Set: "Christmas On Bear Mountain" & "The Old Castle's Secret": Vols. 5 & 6 (The Complete Carl Barks Disney Library)
Publication Date:
November 8th, 2016
Currently Available Online
In Carl Barks' Duckburg we see all the human frailties: Donald Duck's anger, Scrooge's ambition, the Beagle Boys' greed. Barks was a virtuoso artist and writer who combined breakneck action with detailed and subtle art. You will find a master at his peak in 'Lost in the Andes,' and your inner-child will thank you.
December 2011 Indie Next List
Description
Available for the holidays in a stunning gift set.
We have a double dose of Donald Duck! This fall's Barks Library boxed set collects our "Christmas on Bear Mountain" and "The Old Castle's Secret" volumes, featuring the first-ever appearance of Uncle Scrooge, and much more! Handsomely presented in an attractive box set at a special price that even Uncle Scrooge would approve.