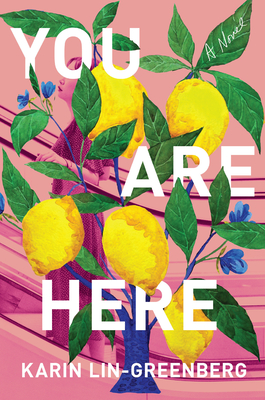 You Are Here: A Novel
Publication Date:
May 2nd, 2023
Currently Available Online
Karin Lin-Greenberg uses a failing mall as a symbol of our society in transition, showing us tragedy and hope. Disparate characters are brought together through the mall and learn to trust the people around them. A quietly powerful novel.
May 2023 Indie Next List
Description
As a once-bustling mall prepares to shut its doors for the final time, the residents of an upstate New York town must reckon with a shocking act that forces them to reevaluate who they are in this "remarkable study of ordinary people's extraordinary inner lives" (Publishers Weekly, starred review)
The inhabitants of a small town have long found that their lives intersect at one focal point: the local shopping mall. But business is down, stores are closing, and as the institution breathes its last gasp, the people inside it dream of something different, something more. In its pages, You Are Here brings this diverse group of characters vividly to life—flawed, real, lovable strangers who are wonderful company and prove unforgettable even after the last store has closed.
The only hair stylist at Sunshine Clips secretly watches YouTube primers on how to draw and paint, just as her awkward young son covertly studies new illusions for his magic act. His friend and magician's assistant, a high school cashier in the food court, has attracted the unwanted attention of a strange boy at school. She tells no one except the mall's chain bookstore manager, a failed academic living in the tiny house he built in his mother-in-law's backyard. His family is watched over by the judgmental old woman next door, whose weekly trips to Sunshine Clips hide a complicated and emotional history and will spark the moment when everything changes for them all.
Exploring how the stories we tell ourselves about ourselves are inextricably bound to the places we call home, You Are Here is a keenly perceptive and deeply humane portrait of a community in transition, ultimately illuminating the magical connections that can bloom from the ordinary wonder of our everyday lives.
Praise for You Are Here: A Novel
Elle, A Best New Book of the Summer
Library Journal, A Most Anticipated Book of the Year
Zibby's Mag, A Most Anticipated Book of 2023
Goodreads, A Buzziest Debut Novel of the Year
"Lin-Greenberg's web of characters illustrate the complex lives of ordinary people." —Laura Zornosa, Time
"Like Elizabeth Strout's Olive Kitteridge, the charm of Lin-Greenberg's engaging story lies in the sweetness of the characters' everyday lives." —Becky Meloan, The Washington Post
"Charming . . . The small lies woven into a lifelong marriage, the petty resentments harbored by polite neighbors and, above all, the comic discrepancy between a character's outer and inner life—all emerge unforced and unadorned in this multifaceted narrative . . . But the everyday reality that Ms. Lin-Greenberg so memorably creates is not easily eclipsed. Compassion and wry understatement remain her strengths, and in You Are Here she captures not only the frayed texture of suburban existence but also the turbulent emotions, immediate and long buried, of protagonists who are ultimately far more than stereotypes." —Anna Mundow, The Wall Street Journal
"Absolutely irresistible." —People
"This poignant novel by Karin Lin-Greenberg movingly portrays a community of people whose local mall is shutting down. Rich and nuanced in her descriptions of her characters, Lin-Greenberg illustrates both the humanity of their private lives and the layered entanglements of their relationships." —Karla Strand, Ms.
"Karin Lin-Greenberg's thoughtful, empathic You Are Here [is] such a bittersweet treat." —Elle, A Most Anticipated Title of the Year
"The novel is entertaining and incisive, and Lin-Greenberg captures a range of human experiences, with a reminder that no one ever knows what another person is experiencing." —Katie Tamola, Shondaland
"Saying You Are Here is about a mall closing in a small town is like saying Moby Dick is about a whale. The commonplace happening is merely a tool to explore both how human beings are intimately connected and how others are fully unknowable. This books reminds me of early Celeste Ng—in the best way."—Sarah Gelman, A Sarah Selects Pick
"Lin-Greenberg is a captivating storyteller and deploys the shopping mall setting to show that no matter one's background, people are more alike than different . . . [H]er story is a universal one about finding joy in one's interests. And it's also a reminder that people can—and do—change. In a world that seems fraught with division, this simple message is perhaps the one needed the most now." —Susan Blumberg-Kason, Asian Review of Books
"Within [You Are Here] are characters you will grow to feel deeply for—their embarrassment, guilt, and disillusionment will make you want to lean in and give them a hug. While each one of them may be flawed, they are so believably human and fleshed out that you can understand why they are the way they are and each one harbors a secret or background that furthers your understanding of their current state. You can picture them in your own life, or mall, almost seeing them walking past you in the food court. You Are Here is gentle, introspective, and human in every sense of the word. It brings to life a community, loosely yet clearly, bound together by a mall on the decline. Even though it is still early in the year, I'm ready to call it one of the best books of 2023." —Audrey Fong, Soapberry Review
"Lin-Greenberg weaves together [...] individual stories with skill and nuance. The small details of each character's experience provide a kaleidoscopic portrayal in this heartfelt exploration of what makes up a life: secret hopes and dreams, human interactions, moments of kindness and care."—Kerry McHugh, Shelf Awareness
"With Lin-Greenberg's in-depth character development, You Are Here shows both the unexpected connections between strangers and the unshakeable assumptions we have about one another. Lin-Greenberg mines the spectacular within everyday life, whether that is a moment of public violence or intense beauty. Similarly, she highlights how mall culture functions simultaneously as a dying part of suburbia, a symbol of lost dreams, and—perhaps surprisingly—a form of controlled community." —Jaeyoon Yoo, Electric Literature
"Exceptional . . . This is a remarkable study of ordinary people's extraordinary inner lives." —Publishers Weekly (starred review)
"Lin-Greenberg's masterful and understated debut novel is an engrossing, character-driven story that will delight fans of Liane Moriarty and Celeste Ng . . . At its heart, this is a story about our ties to and interactions with others and how our communities impact our actions, influence our aspirations, and shape our identities. Lin-Greenberg beautifully translates the lives of an ordinary group of people into an extraordinary, even triumphant novel. You Are Here is sure to be a book-club favorite." —Booklist
"This novel is a community and a tour de force account of small town America. How do we survive ourselves and each other? How can we thrive instead of simply co-exist? Lin-Greenberg brings her imperfect yet perfect cast of characters to answer this very question and shows us a way. A magical book, brimming with soul." ––Weike Wang, author of Joan Is Okay
"A boy, a beauty, an elderly gardener, a failed PhD and an artist with scissors: where else could all of these characters meet but at the mall? In Karin Lin-Greenberg's clear-eyed and heartfelt You Are Here, the failing Greenways Mall makes community out of a group of characters so fractious and real, you feel like you're hanging out with them at the food court." —Alexandra Lange, author of Meet Me by the Fountain: An Inside History of the Mall
"A charming and witty work that will also break your heart—a story about America, set in that most American of places: the dying shopping mall." —Marie Myung-Ok Lee, author of The Evening Hero
"With great insight and care, Lin-Greenberg chronicles the daily lives of neighbors connected to a local mall that's soon closing. You Are Here shows that times keep changing, but the American Dream persists." —Sarah Langan, acclaimed author of Good Neighbors