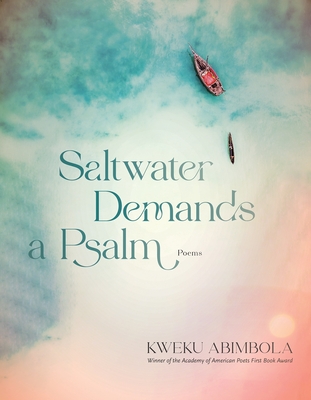 Saltwater Demands a Psalm: Poems
Publication Date:
April 4th, 2023
Publisher:
Graywolf Press
Currently Available Online
Kweku Abimbola's collection is a dazzling appreciation of Black life. It reaches both backwards, to Ghana and a pre-American cultural past, and forwards to a life beyond violence, where Blackness and joy coexist in a single, uninterrupted river.
April 2023 Indie Next List
Description
In Ghana's Akan tradition, on the eighth day of life a child is named according to the day of the week on which they were born. This marks their true birth. In Kweku Abimbola's rhapsodic debut, the intimacy of this practice yields an intricately layered poetics of time and body based in Black possibility, ancestry, and joy. While odes and praise songs celebrate rituals of self- and collective-care—of durags, stank faces, and dance—Abimbola's elegies imagine alternate lives and afterlives for those slain by police, returning to naming as a means of rebirth and reconnection following the lost understanding of time and space that accompanies Black death.
Saltwater Demands a Psalm creates a cosmology in search of Black eternity governed by Adinkra symbols—pictographs central to Ghanaian language and culture in their proverbial meanings—and rooted in units of time created from the rhythms of Black life.These poems groove, remix, and recenter African language and spiritual practice to rejoice in liberation's struggles and triumphs. Abimbola's poetry invokes the ecstasy and sorrow of saying the names of the departed, of seeing and being seen, of being called and calling back.
Praise for Saltwater Demands a Psalm: Poems
"Saltwater Demands a Psalm blends Ghanaian culture and Black American experience in a cosmology of celebration and resistance."—The New York Times Book Review
"Elegant. . . . A brave and gracious debut."—Diego Báez, Booklist
"Abimbola's storytelling enacts both lineage and lesson. . . . Rich in the tonal shifts of memory, encompassing both elegies and odes to 'Stank face,' DJs, and 'my durag,' the collection erupts in celebration in a poem titled with the symbol for chief, which opens, 'Black joy circles. / Black joy ellipses.'"—Rebecca Morgan Frank, Poetry Foundation's Harriet Books
"A powerful and stirring debut from one of the most unique voices in American poetry. . . . This is a technically skilled, deeply thoughtful collection that will resonate especially well for fans of Claudia Rankine and Danez Smith."—Ronnie K. Stephens, The Poetry Question

"In an era of sloganeering and solipsism, Saltwater Demands a Psalm is a healing, a diasporic divination, an elegy of ancestral elegance. Kweku Abimbola beseeches us: Do you want this / name? / Do you want this name / which is only a prayer? and hymns us a portrait of fully realized Black humanity to counter the bullet riddled headlines and internet memes. Here is a poet with enough heart to Sankofa across oceans, fasten his durag, and libate the page with Adinkra insight. Dear reader, be wise: fix your mind to wonder, lift this tome to your dome and Drink! Drink! Drink!"—Tyehimba Jess

"Saltwater Demands a Psalm, arrives with the assured confidence that comes from an understanding of the force of ritual in poetry—there is, in these poems, a deep sense of tradition and history that is transported through lyric assurance into a poetics that feels excitingly fresh. Abimbola . . . is helping us see ourselves anew, with the power of ancestral vision."—Kwame Dawes
"'Sentence the body free,' Kweku Abimbola writes, joining the poets whose books are ceremonies of becoming. Touching language to a complex circuitry of Black histories, he listens toward the sometimes hidden, shared memory and practices between us. 'Let us make more / than language,' he lifts our faces to each other, and his beautiful offering flourishes with collaboration, devotion, possibility."—Aracelis Girmay
"Built of rituals old and new, Kweku Abimbola's debut ties together life and afterlife, hope and mercy, the knowledge of blood and the long memory of water. . . . Abimbola is a wonderful storyteller who has picked the poem as his lute to play for his beloved people."—Danez Smith