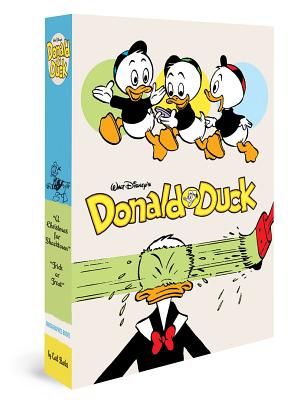 Walt Disney's Donald Duck Holiday Gift Box Set: "A Christmas For Shacktown" & "Trick or Treat": Vols. 11 & 13 (The Complete Carl Barks Disney Library)
Publication Date:
September 25th, 2018
Currently Available Online
In Carl Barks' Duckburg we see all the human frailties: Donald Duck's anger, Scrooge's ambition, the Beagle Boys' greed. Barks was a virtuoso artist and writer who combined breakneck action with detailed and subtle art. You will find a master at his peak in 'Lost in the Andes,' and your inner-child will thank you.
December 2011 Indie Next List
Description
Two of our popular holiday-themed volumes in one sturdy slipcase at a special price that even Uncle Scrooge would approve!
Collects the universally beloved comics adventures of Donald Duck, his nephews Huey, Dewey and Louie, and his Uncle Scrooge. "A Christmas for Shacktown" is the second book in the Barks series and collects the titular Dickensian story, plus many more; The other volume, "Trick or Treat" ? features a comic-book version of the classic Disney animated short, with nine pages restored ? and includes Barks's favorite tale, "Omelet," where Donald Duck becomes…a chicken farmer?!