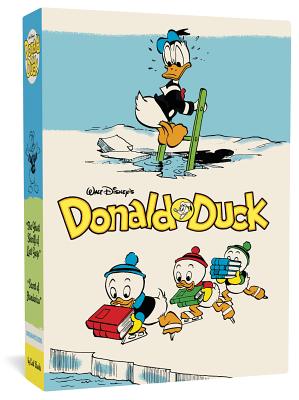 Walt Disney's Donald Duck Gift Box Set: "The Ghost Sheriff of Last Gasp" & "The Secret of Hondorica": Vols. 15 & 17 (The Complete Carl Barks Disney Library)
Publication Date:
October 15th, 2019
Currently Available Online
In Carl Barks' Duckburg we see all the human frailties: Donald Duck's anger, Scrooge's ambition, the Beagle Boys' greed. Barks was a virtuoso artist and writer who combined breakneck action with detailed and subtle art. You will find a master at his peak in 'Lost in the Andes,' and your inner-child will thank you.
December 2011 Indie Next List
Description
This is a gift box set, just in time for the holidays, of two volumes of Donald Duck comics collections by one of the most influential cartoonists in the world!
Collects the internationally acclaimed The Ghost Sheriff of Last Gasp and The Secret of Hondorica in a handsome slipcase at a special price that even Uncle Scrooge couldn't resist!