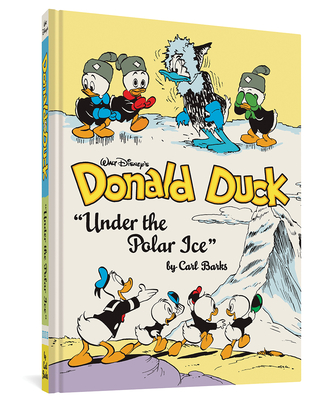 Walt Disney's Donald Duck "Under the Polar Ice": The Complete Carl Barks Disney Library Vol. 23
Publication Date:
November 10th, 2020
Currently Available Online
In Carl Barks' Duckburg we see all the human frailties: Donald Duck's anger, Scrooge's ambition, the Beagle Boys' greed. Barks was a virtuoso artist and writer who combined breakneck action with detailed and subtle art. You will find a master at his peak in 'Lost in the Andes,' and your inner-child will thank you.
December 2011 Indie Next List
Description
In this collection of internationally acclaimed Donald Duck comics, Donald and the nephews are stranded in the Arctic and face peril in the jungle!
In this collection of classic comic book stories, Huey, Dewey, and Louie earn a trip to the North Pole in a submarine — and Donald stows away! Fortunately, when they find themselves stranded, Gyro Gearloose invents a flying sled! Then, when Donald announces that he's taking the nephews to South America, he pledges to protect them from all the dangers in "the wildest part of the jungle" — including a sheer mountain cliff, a raging river, and a swarm of crocodiles. But who is saving whom? This book has 170 pages of story and art, each meticulously restored and newly colored, as well as insightful story notes by an international panel of Barks experts.
Praise for Walt Disney's Donald Duck "Under the Polar Ice": The Complete Carl Barks Disney Library Vol. 23
A priceless part of our literary heritage.
— George Lucas
Enormously well-crafted and equally enormously entertaining, timeless comedy adventures … the perfect gift for just about any reader of comics, regardless of age, background, or experience.
— School Library Journal
Barks's stories are fables rather than allegories; they aren't set in our world, nor do they represent it. Instead, they resolutely carve out their own unique sea-space in the ocean of story.
— The Los Angeles Review of Books