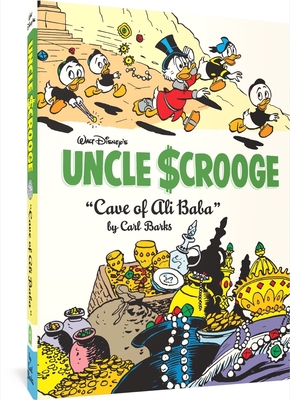 Walt Disney's Uncle Scrooge "Cave of Ali Baba": The Complete Carl Barks Disney Library Vol. 28
Publication Date:
June 20th, 2023
Currently Available Online
Description
The secret of Ali Baba's hidden treasure, the return of Magica de Spell — and a rare story never before seen in the U.S.!
"You can't depend on anything in Persia being what it seems!" warns Uncle Scrooge. But when he, Donald, and the nephews are approached by a wayward archaeologist bearing fragile clay tablets that point the way to Ali Baba's lost cave, the hunt is on for the most fabulous treasure of the ancient world! And Scrooge will soon discover how true his words really are! Then, Scrooge shields his Money Bin in an indestructible glass that defies the efforts of Magica de Spell and the Beagle Boys to crack it. What could possibly go wrong? Plus: the oddball inventions of the ever-eccentric Gyro Gearloose! Additionally, we're proud to present a rare story started by Carl Barks and completed by internationally acclaimed Duck artist Daan Jippes, never before published in the U.S. — "The Pied Piper of Duckburg."
Carl Barks delivers another wildly imaginative collection of outrageous adventures, laugh-out-loud comedy, and all-around comic book brilliance. Each page is meticulously restored and newly colored, with insightful story notes by an international panel of Barks experts.